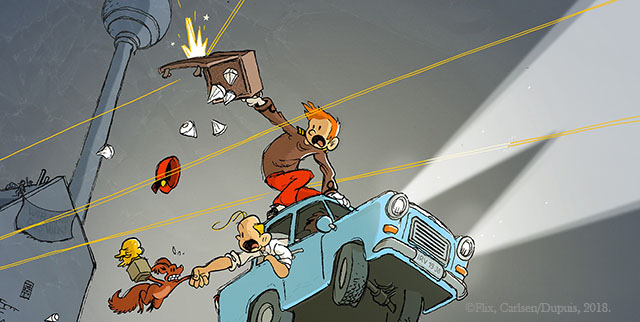 Dear partners,
May is a month of much movement for Mediatoon Foreign Rights! We'd like to stop and take a breather in order to keep you informed of our springtime news.
After the Toronto Comic Arts Festival (TCAF) and the Warsaw Comics Festival, we're headed for the International Comic Salon in Erlangen, Germany (May 31-June 3). There, the renowned German comics author Flix, along with his publisher Carlsen, will unveil the latest… Spirou! Surprised? You should be! This is the first time a German author will be trying their hand at such a famous Franco-Belgian character. The album is called "Spirou in Berlin" and promises to be a zany adventure, playing out between the two sides of a still-separated city right before the fall of the Wall. We'll have more on this soon, and MFR will be handling rights on this title.
We'll also be present for the first time this year at the New York Rights Fair (May 30-June 1) and BookExpo America (May 30-June 1). With our Europe Comics hat on, we'll be participating in a panel on Wednesday, May 30, entitled "How European Comics Are Taking Hold in the U.S."
If you'd like to schedule a meeting with us at any of these events, please contact us as soon as possible. And if you're in New York on Thursday, you are cordially invited to the French Graphic Novels and Comics expo and cocktail.
Happy reading, happy travels, and happy spring,
The Mediatoon Foreign Rights team