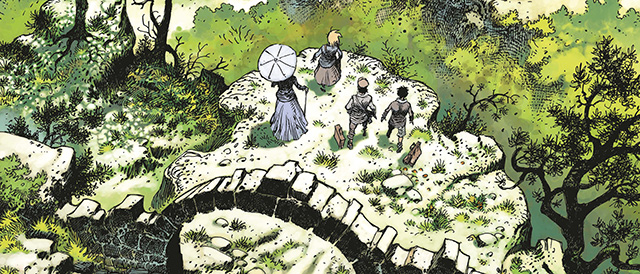 See you in the Rights Tent, Stand RL 10!
Dear partners,
Just as the Angoulême festival is gearing up to begin today, we are pleased to present you with the first newsletter of 2019 brimming with thrilling titles in each category. From Xavier Dorison and Joël Parnotte's new turn-of-the-century French fantasy series "
Aristophania
" to the graphic novel "
Nymphéas noirs
", a detective story set in Claude Monet's Impressionist paradise of Giverny, there's something for everyone this month.
We'll be seeing many of you over the next few days in Angoulême. As a reminder, you can find us in the rights and licensing tent, stand RL 10. The
festival programming
this year is rich with exhibits, shows, signings, and more. In particular we'd like to invite you to the Europe Comics-organized panel
"Is There Such a Thing As European Comics?"
 , which will feature a fantastic lineup of speakers discussing European comics!
Finally, we'd like to give a special shout-out to our authors and publishers who are finalists in
this year's official selection
. And we congratulate Pierre Christin on winning the Prix Goscinny 2019 for his terrific scriptwriting on "
Est-Ouest
" along with his whole body of work.
Here's to what's already turning out to be a successful, varied year in comics and 
bande dessinée
!
The MFR Team

BEST-SELLERS
Le Royaume d'Azur (1)

---

Publisher: Dargaud Benelux

Genres:

Action & Adventure

It is the early 1900s and the three Francœur children are struggling to survive in the slums of Paris. But their lives change forever with the arrival of a mysterious stranger from their father's past. Countess Aristophania Bolt from the Kingdom of Azur claims she has come to help the trio, but between disturbing phenomena (tricks or sorcery?) and invisible threats, it is hard to know whom to trust…

---
Katanga (3)

---

Publisher: Dargaud

Genres:

Historical fiction

In 1960, after 80 years spent under Belgian colonial rule, Congo declares its independence. Less than two weeks later, the rich mining province of Katanga secedes. Immediately after the secession, Congo and Katanga enter into a war for the dominance of mining territories, including the diamond province, Kasai. The war is followed by civilian massacres and exoduses, at which point the UN intervenes and sends peacekeepers to the area. At the same time, though, a ruthless horde of mercenaries are recruited and sent there to liberate occupied areas. A black servant, Charlie, changes his own fate drastically by getting his hands on a priceless treasure, making him the most wanted man in Katanga…

---
Le Pays divisé (5)

---

Publisher: Le Lombard

Genres:

Drama, Historical fiction

The small village of Pétain l'Écluse in the south of France is about to see its world turned upside down by the arrival of German soldiers at the start of the Second World War. Two of its young inhabitants, François and Eusèbe, watch helplessly as the enemy invades their lands. But they don't intend to take the occupation lying down. With the help of their new friend Lisa, François and Eusèbe will engage in a fight for freedom all of their own…

---
La Isabela (1)

---

Publisher: Le Lombard

Genres:

Fantasy & Esoteric

Jakob Kayne and his brother Simon are the last survivors of the Hippocrates people. Jakob is a soldier, but also a memory-eater, capable of getting in everywhere thanks to a gift which is also a curse: no one can remember his face. Simon is a scholar of the best healers in the land. Together, soldier and doctor, they have become highly sought-after mercenaries. Their latest mission is the most perilous yet, they have to find and heal the daughter of a rich merchant, but she is trapped in the besieged city of Isabella.

---
Inferno (2)

---

Publisher: Dargaud Benelux

Genres:

Fantasy & Esoteric

Jean Dufaux continues "La Complainte des Landes Perdues", his ongoing saga, with illustrator Béatrice Tillier. In this third cycle, appropriately entitled "Sorcières" (Sorceresses), the forest is home to a ghostly abode, a fortress emerges overlooking the sea, and the scene is set for a terrible race for the throne. All the while, amongst the shadows, witches' conflicts rage, with evil amulets and white and black magic…

---
Enigma (0)

---

Publisher: Dupuis

Genres:

Action & Adventure

Berlin, 1938: Hitler's engineers develop "Enigma," a machine that will encrypt messages so they're impossible to decode. June, 1940: Germany has occupied Belgium and France. At Bletchley Park in England, a young Belgian scientist and mushroom expert, the Count of Champignac, is hired to try to break the Enigma code. It's the start of an exciting adventure in which he'll stretch his mental powers to the limit, come face to face with Churchill, fall in love, and change the course of the War.

---
Ce que font les gens normaux (0)

---

Publisher: Dargaud

Frances Scarland is a young legal assistant suffering from insomnia, taking her first tentative steps in the business world. Between personal problems and professional ambition, we follow the stresses and strains of a young woman who also has to deal with her meddlesome friend, Vicky, a budding actress. Given the position of helping the mysterious Castonguay, Frances finds herself in the thick of it at her legal practice, and is faced with a whole host of tiring, strange and sometimes Kafkaesque jobs. Frances provides a subtle glimpse into the growing pains of a young adult, while the protagonist Lin discovers that her everyday life might just stay the same forever. In this comic, Lin encapsulates—with a keen understanding and subtlety—the doubts and anguish of a whole generation.

---
Noire la vie méconnue de Claudette Colvin (0)

---

Publisher: Dargaud

Genres:

Biography & Memoirs

Being black in the United States during the 1950s, means facing racial segregation every day. Blacks and whites are separated from one another, and don't even use the same sidewalks. In 1955, Claudette—aged 15 at the time—catches a bus after finishing school and takes a seat in a section reserved for black people. A white woman gets on the bus, and as there are no seats left, demands the one Claudette is sitting in, as the law allows her to. But Claudette refuses to give up her seat, which leads to her being violently apprehended by the police. She at first gets support from the African-American civil rights movements, including Rosa Parks, but ends up being unjustly tried and convicted of a crime. Young, poor, and uncultured, she gets sacrificed by these civil rights organizations: she is not the model symbol of rebellion they were hoping for. This is an adaptation of a novel by Tania de Montaigne.

---
L'homme à la fourrure (0)

---

Publisher: Dargaud

Genres:

Biography & Memoirs

In 1870, Leopold von Sacher-Masoch publishes "Venus in Furs," an erotic novel revealing the author's desire to be dominated by a woman. After the success of the novel, a woman turns up at his doorstep and offers to take on the role of the dominant woman. He submits himself to her completely and they get married. Years later, Leopold has remarried and lives a quiet life, far removed from the sexual escapades of his first marriage. This is when he learns that his surname is being used, to his detriment, to describe a new sexual perversion: masochism.

---
Yasmina et les mangeurs de patates (0)

---

Publisher: Dargaud Benelux

Eleven‐year‐old Yasmina and her dad live a modest lifestyle in a small city apartment. Luckily, Yasmina, a food‐lover, is a highly creative cook. On her way to school, she picks edible herbs, and her friends from the communal gardens provide her with fresh vegetables every day. That is, until the day the gardens disappear, bulldozed over and replaced by a field of experimental potatoes. With a brand-new food line produced exclusively using potatoes, a mysterious business seems to be planning on gaining a commercial monopoly over the food market. This new variety of potato is completely addictive! The only solution is for Yasmina to track down and eradicate the source of the problem. Fun and colorful, Yasmina's is a world worthy of the wonderful Roald Dahl.

---
Nymphéas noirs (0)

---

Publisher: Dupuis

Genres:

Suspense & Thrillers

In the village of Giverny, where Claude Monet created some of his most beautiful paintings, the peace and tranquility are suddenly broken by a mysterious murder. When a detective is sent to investigate, he encounters a young amateur artist, a seductive schoolteacher, and an old lady who stays home to spy on her neighbors. Which of the three women can help him solve the crime? And is there any truth in the rumor that several priceless masterpieces, including the famous "Black Waterlilies," have been lost or stolen? The authors of this work turn the collision of art and passion into a game of smoke and mirrors, throwing us into a gorgeous maelstrom of illusions and enigmas. This is an adaptation of the best-selling, widely-translated novel by Michel Bussi.

---
Passi Messa! (0)

---

Publisher: Dargaud

Beginning in 1982, Joost Swarte developed a unique narrative approach consisting of two side-by-side gags, the first, the "not this" (which showed a problem, something not to do), and the second, the "but that", a response to the first situation in the form of a solution or a way out. Two gags firmly linked, then, that respond to one another and reflect each other in an inexhaustable game of mirrors. Initially published in the Dutch weekly "Vrij Nederland", these strips were later released between 1985 and 1991 as five small-format books. Here, for the first time, Dargaud is publishing all five of these books in a single collected volume. In January 2019, Joost Swarte will be particularly in the spotlight as part of the Futuropolis exhibits at the Angoulême international bande dessinée festival.

---
Le polar qui sent le vestiaire (0)

---

Publisher: Dupuis

Did you really think soccer matches were never fixed? Deathfix will make you think again… Gus is an experienced coach who knows exactly how to motivate his team, the Moscow Sporting Club. The World Cup is approaching, and he's sure he's going to lead them to a resounding victory. Unfortunately for him and his players, a soccer game is not like an episode of Bubble Guppies, and under that smooth Astroturf lurk all kinds of deals, threats, bribes, and blackmail. In fact, cheating and dirty money are the name of the game! And when the orders come from above, it's difficult to disobey them without risking an extremely unpleasant pay-back.

---
Trap (0)

---

Publisher: Dargaud

Genres:

Action & Adventure

Set up traps, wait for the prey, hunt, defend your game from another predator so that you can finally kill it. That's the everyday life of our hunter and his dog, somewhere in time and space, during an undetermined epoch where man is nothing more than prey. A prey not without a way of defending itself, that is! On top of your regular knives and spears, our hero carries with him mysterious animal skins which allows him—when he wears them—to become the animal of the skin he's wearing. A very useful power for surviving in such a hostile environment! When he helplessly witnesses the destruction of a village and the annihilation of its inhabitants by a blood-thirsty monster, our hero decides he wants to add a new skin to his collection! Here begins a hunt where the hunter can become the hunted… 

---
La Planète des sciences (1)

---

Publisher: Dargaud

A walk through the history of science told through the lives and work of fifty scientists. Names like Newton, Descartes, and Lavoisier are known to all, but how many people can actually explain what they've brought to science? Here, scientific information is brought to life using anecdotes and real-life events. Readers learn the stories of specific scientists and their contributions, but the authors also devote pages to broader subjects not necessarily associated with a particular scientist: the Big Bang, the origins of life, the search for elementary particles, how the brain works…

---
L'Ouest le vrai (3)

---

Publisher: Dargaud

Kansas, 1880. Elijah Stern, the local undertaker, is asked to analyze the death of his latest "client," Charles Bening, a notorious alcoholic who died of a cardiac arrest while visiting a brothel. Or at least, so it seems. Bening's decease is followed by another mysterious death, that of his very own brother-in-law. That makes two deaths and a whole load of questions for Stern, who would never have imagined that the answers are to be found in his own past, during the darkest hours of the American Civil War…

---
Moonshine (2)

---

Publisher: Urban Comics

Genres:

Crime & Mystery, Sci-Fi

Set during Prohibition, and deep in the backwoods of Appalachia, "Moonshine" tells the story of Lou Pirlo, a city-slick "torpedo" sent from New York City to negotiate a deal with the best moonshiner in West Virginia, one Hiram Holt. What Lou doesn't figure on is that Holt is just as cunning and ruthless as any NYC crime boss. Because not only will Holt do anything to protect his illicit booze operation, he'll stop at nothing to protect a much darker family secret…a bloody, supernatural secret that must never see the light of day… or better still, the light of the full moon.

---
Reine (7)

---

Publisher: Le Lombard

Genres:

Historical fiction

Since her father's death, 18-year-old Jolanne de Valcourt has been growing bored on the vast family estate. The lands are administered by her half-brother, the brutal and deceptive Philippe. In quest of money, Philippe has no scruples in selling military secrets to an English spy, the handsome Craig Walters. When Jolanne meets the spy by chance, the two young people fall desperately in love.

Jolanne and Craig will eventually be reunited, but it will take them 20 years and at least 5 albums to get there. In the meantime, Jolanne will spend time in prison, become a bandit, endure dreadful adventures in India, be stricken with temporary amnesia, have a lesbian affair with Aaricia, and more.

The sweeping new historical saga by Jean Van Hamme: when 'Angélique' meets 'Les Maîtres de l'orge' ('The Lords of the Barley').

---
Dupuis

L'atelier Mastodonte (6)

By Collectif

Dupuis

Rose – tome 3/3 (3)

By Lapière & Alibert
Zéphyr Editions

Aux sources du mal (3)

By Wallace & Camp

Action & Adventure, Drama

Zéphyr Editions

Le choix du moi (3)

By Buendia & Andrieu

Action & Adventure, Drama
Mission 1 (1)

---

Publisher: Dupuis

Genres:

Suspense & Thrillers

When your old man's a police captain, it can make for some lonely evenings at home! Tom would know. But when the case his father Lionel is working on involves Fabian, a hall monitor at his middle school, Tom decides to find out what's going on for himself. Tom and his best friend Lilia start their own investigation. Suddenly they find themselves trailing suspects, doing undercover work, and surviving some close calls! Only they have to do it all in absolute secret, so Lionel won't catch on. For that, they become real-life anonymous informers. Where will this story lead them?

---
Le Monde de Milo (6)

---

Publisher: Dargaud

Genres:

Fantasy & Esoteric, Action & Adventure

Milo lives in a house by a lake. He's often alone, but he's used to it. One day, he comes across a beautiful golden fish, and his whole world is turned on its head! Milo soon discovers that, just on the other side of the lake, there's another, magical world where a battle between good and evil is in full swing. It's not long before he realizes that he didn't find this world by accident…

---
L'homme à la tête de singe (1)

---

Publisher: Dupuis

Genres:

Fantasy & Esoteric

A strange man named Kid Noize, who has a monkey face, a 1977 Mustang, a talking dog and dreams of being a famous DJ, travels between worlds to deliver mysterious packages to people. Unfortunately, he has lost the package of his next recipient, a young boy named Sam who is having a hard time in life, grieving the loss of his mother while trying to adapt to a tough new town and school. Neither Sam nor Kid Noize has any idea what awaits them as they join forces to find the box that will help shape Sam's destiny…

---
La Pluie (10)

---

Publisher: Le Lombard

Genres:

Fantasy & Esoteric

Ever since he was 10 years old, Ange Tomassini has carried a heavy secret: when in danger, he turns into Tiger Man, a transformation that often results in a fair bit of gore. Four years on, he confides in his best friend Franck, who doesn't believe him. Which does not necessarily mean he's wrong… Ange has yet to learn many things about his family, "la famiglia Tomassini", and about Dan, his mysterious bodyguard. What he will learn is that once you leave, "you can never come home again…"

---
Des mages et des rois (7)

---

Publisher: Dupuis

Genres:

Fantasy & Esoteric

There are seven of them. Seven teenagers, seven sorcerers with immense powers. They can save the world… or destroy it! For now, their main challenge is to arrive on time for lessons. This is a contemporary fantasy series in a familiar setting (school), with seven (very different) heroes, soon to be united by a common quest.

---
La Vengeance de Barbichette (40)

---

Publisher: Dargaud

Genres:

Action & Adventure

Sylvain and his sister Sylvette live in a forest in perfect harmony with nature and the animals. Everything is perfect, a part form the nasty Comrades. The latter won't stop making up the most bizarre plans to rob the thatched cottage of the two friendly orphans.

---
Mon premier (vrai ?) baiser (0)

---

Publisher: Little Urban

Genres:

Novels & Story Books

Summer is…over. And the first day of school is coming. But before school starts, there are many things left to do! Some of them are not so pleasant. Thankfully, it's also the time to see your friends again!

---

COMPILATIONS AND SPECIAL EDITIONS
Le Lombard

Capricorne (Compilation 1)

By Andreas

Dupuis

Choc (Black/White Compilation)

By Maltaite & Colman
Dupuis

Julie Wood (Compilation 3)

By Graton

Dupuis

Magic 7 (Compilation 1)

By Kenny Ruiz, Rosa, Quattrocchi & Kid Toussaint