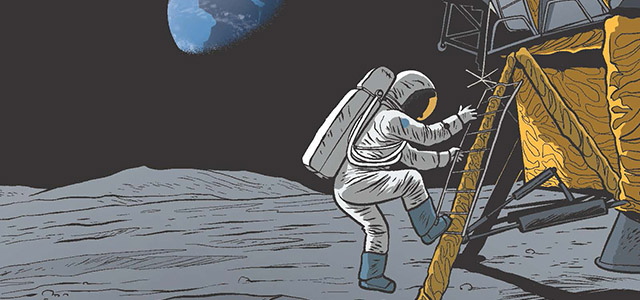 What better way to control the past than to learn about it? And how better to learn about the past in a fun and creative way than with comics? This month is filled with eye-opening history lessons from various eras.
Let's start with the space race, and the 50th anniversary of the moon landing: "On the History trail" will tell you everything there is to know about Neil Armstrong's adventure in space. Then there is "Orwell", a graphic novel that will take you back to the 1930s and World War II through the life of George Orwell, a brilliant writer who was not afraid to criticize and emphasise the flaws of his society. Set in the same historical period, "Bootblack" will tell you the story of another unforgettable character: Al, a lowly shoeshine boy who will stop at nothing to feel like a true American and win over the love of his life. Finally, step into the imperial kitchens of the past with "Dans les cuisines de l'Histoire"—you're sure to come away with a plateful of anecdotes and recipes to pull out during family dinners.
We invite you to take a look below at all our new releases from this month. Read, learn and above all enjoy!
The MFR Team