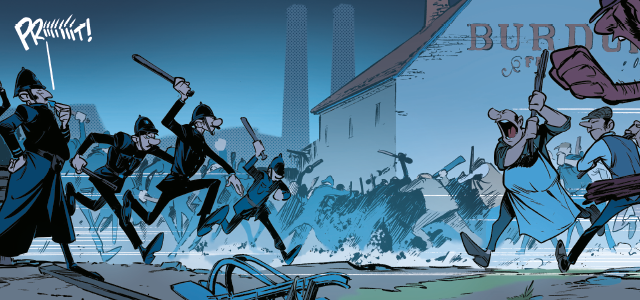 It's that time of the year again! Characters you've known and loved for years are back on the shelves, raring to go in their most recent adventures.
In the 27th volume of Blake & Mortimer, London is once again in danger as Mortimer finds out about a humanoid alien piloting a spaceship. In Thorgal's 38th volume, Thorgal and Jolan have to face an ancient curse cast by the mythical creature, the Selkie. And BeKa and Jose Luis Munuera take up their pens for a special volume of Les Tuniques Bleues (The Bluecoats).
A word also on two new but already-classic series, Le Loup en Slip (Wolf in Underpants) — rights sold in 10 languages — and L'Âge d'or (The Golden Age) — rights sold in 10 languages. Finally, this month famous characters are brought back to life in brand-new stories, like spy-warrior Bruno Brazil in the most recent incarnation of the classic series.
The MFR