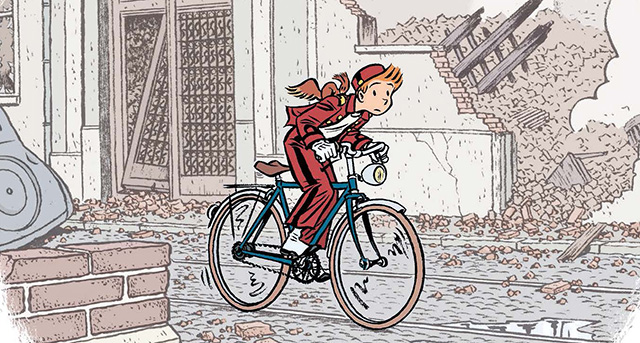 December 10, 1948, Palais de Chaillot, Paris. The United Nations General Assembly formally adopts the Universal Declaration of Human Rights, which sets out to describe the civil, political, economic, social, and cultural rights of all human beings. On the 70th birthday of this groundbreaking document, the United Nations has chosen Spirou as a symbol for the defense of human rights worldwide, and will celebrate next week alongside Dupuis/Spirou Magazine.
And so this month, in addition to the other titles you'll find in the below newsletter, we'd like to draw your attention to artist/writer Émile Bravo's latest take on the adventures of the tireless bellboy Spirou. The first volume of this impressive four-part work comes out in early October. Set in Brussels in 1940, it tells the story of the world's headlong crash into the calamity of the Second World War – as seen, of course, through Spirou and Fantasio's extraordinary encounters…
This is the perfect moment to ask us for your reading copy of this latest gem, or any other Spirou work in our catalogue!