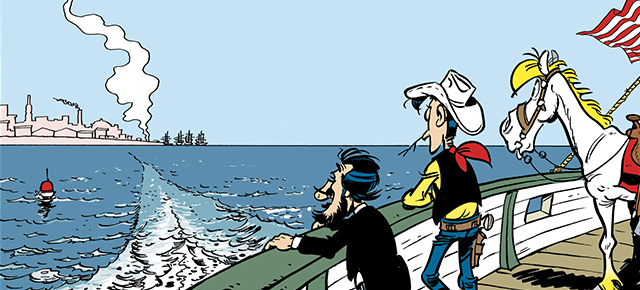 No fewer than eighty albums in, the world's favorite lonesome cowboy has finally arrived… in Paris! Yep, you heard that right! Bienvenue, pard'ner! It's the 1860's, and Lucky Luke and his horse Jolly Jumper leave the rolling plains of the West for the very first time. After a chance meeting at home in the States with Auguste Bartholdi, the French architect of the Statue of Liberty who's having some trouble protecting his copper creation, Lucky Luke will be sent on a mission to Paris to make sure that Lady Liberty gets built safe and sound… and transported back to her eventual home Ellis Island! This hilarious and landmark album, created by the tried-and-true duo Achdé (art) and Jul (script), is a veritable publishing event we absolutely want to share with you.
With a shocking 350,000-copy first print run and rights deals announced already in 14 languages, we needn't say more how delighted we are to welcome our favorite cowboy to this side of the Atlantic!
Below, we share the season's selection of family-friendly titles — also filled with plenty of laughs, colorful characters, and fascinating subjects to learn about.