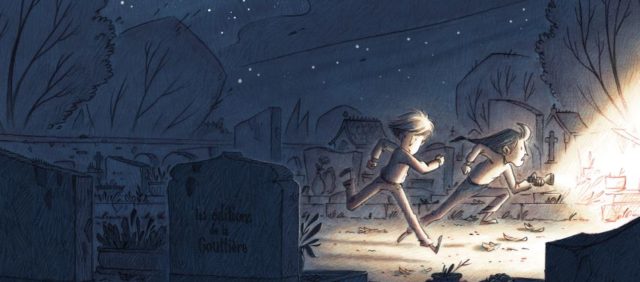 Trick or treat! Halloween is almost here, and we want to help kids worldwide get in the mood with our thrilling new releases. If you are looking for a spooky (but funny) adventure, the vampires and zombies from Zombillenium will gladly greet you in the latest volume of the brilliant black comedy.  And in a new middle-grade novel adapted from the Temps des Mitaines comics, four teenagers find themselves caught in a mysterious room where time seems to stop…
What better place than a graveyard to visit on Halloween night? In the last volume of the middle-grade trilogy Les Croques (Graveyard Sleuths), Colin and Céline will finally get to the bottom of their friend's mysterious disappearance.
Sit down and brace yourselves for a long and frightening night!
Happy Halloween from Mediatoon Foreign Rights